Sheila Hamaker is CSMTA's 2017 MTNA Fellow
Posted by

acremaschi

on

Friday, 5 February 2016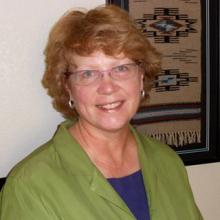 Sheila Hamaker, NCTM, is our 2017 Colorado MTNA Fellow and will be honored at a special event
at the MTNA Conference in March 2017. Sheila is a dedicated piano teacher who has been very
active in CSMTA in local associations and the state board since 2000. She has belonged to four
local associations: DEMTA, DAMTA, SSMTA, and CMTA, and is currently a member of SSMTA
and CMTA. Sheila has served on the boards of each of these organizations as President, Secretary,
and as the preeminent treasurer in three of these organizations from 2002 to present. She served as
CSMTA Treasurer for CSMTA from 2008-2014 and during her term in this office established
valuable guidelines. She serves from time to time as annual auditor for a few local associations.
Sheila has served as Theory Testing Chair and Certificates and Forms Design Chair for SSMTA
Achievement Day. Additionally, she designed and maintains websites for SSMTA and Columbine
MTA.
Now, hear more about this amazing lady. Sheila grew up in Tripoli, Libya, studying piano with
Italian and American piano teachers in the expatriate community of the 1960's. After moving to
Denver in 1975 and earning a pharmacy degree at the University of Colorado, she worked as a
hospital pharmacist at Swedish Medical Center and Littleton Adventist Hospital.
In 1999 her passion for music education led her into a new career. She resumed piano studies with
Dr. Stephen Fiess and earned an ARCT piano teaching diploma from the Royal Conservatory of
Music at Toronto.
During this time local and state music teacher associations gave her the guidance she needed to
become a Nationally Certified Teacher of Music (NCTM). Sheila explains that by being an active
member in these groups, she has been greatly privileged to have learned the art of teaching music
from the most amazing mentors.
Owning a medium size independent piano studio located in Highlands Ranch, Sheila teaches private
lessons with quarterly group classes and offers participation in many events including Achievement
Day, Guild and the Royal Conservatory Music Development Program.
Sheila reflects on a quote from Frances Clark: "I believe there is music in every child and it is the
teacher's job to find it." She explains that her teaching is characterized by a sense of curiosity and
fun with mutual respect and support as we discover beautiful music and work together to make it
shine.
Besides volunteering for music teacher associations, Sheila enjoys singing in her church choir,
adjudicating piano festivals and collaborating with her husband Bill, a French horn player and
long-time music educator in Douglas County Schools.
Praise for Sheila is abundant. Her two local association presidents expound on her contributions:
Sheila is one of SSMTA's most valued and beloved members, serving in several board capacities,
always ready to jump in and help wherever needed. Members appreciate her caring, capable
contributions to the organization and her sweet, calm disposition. She is known to "pull members
down to earth when in danger of wandering into difficult territory."
Columbine shares the following:
Sheila is a risk taker ... very much appreciated!
She developed websites without real website experience prior to her work on those projects. These
websites are the public relations key for the organizations.
Sheila is knowledgeable ... she keeps up on the most recent rules and regulations of MTNA and
CSMTA. When she is 'in the know' she does not hesitate to share 'what she knows' with others.
Sheila is kind ... she is empathetic with the other members in her local associations.
She belongs to more than one local association and has the best interests of all the members of
those organizations at heart.
Sheila is a hard worker... she was the state CSMTA Treasurer for many years and then took on the treasuries for Columbine and South Suburban. Since the Columbine elections for the next treasurer.  Sheila has mentored that treasurer to help ensure success and continuity.
Sheila is an effective leader... she sees areas of need and works to find solutions.
She puts into play not just talk but real efforts for finding solutions.
Sheila is ethical... she is upfront and tactful in her dealings with CSMTA situations and members.
She has everyone's best interests at heart.
Working hard behind the scenes, Sheila is always a wise advisor. In my service as CSMTA Chair for
the MTNA Foundation, the first couple years were a "swim" due to Sheila's guidance. She helped
me with the Silent Auction activity and other donation ideas to support the State Foundation Fellow
Fund. Her work as the state treasurer proved transparent and effective. She has mentored the new
state treasurer and taken time to assist him whenever needed.
And on top of all her other assets ... Sheila is a tremendous NCTM private piano teacher whom we all respect. It is thrilling that Colorado recognizes and celebrates this "gem" in our midst.
You can support our 2017 Fellow nomination, Sheila Hamaker, by sending a check made out to MTNA Foundation Fund and put "Sheila Hamaker" in the "For" column.  Mail the check to:  MTNA National Headquarters,  1 W. 4th Street, Suite 1550, Cincinnati, OH 45202.  You can go online to the MTNA Foundation site at:  https://www.mtnafoundation.org/contribute/donation-form/  Indicate that it is for "Fellow – Sheila Hamaker" and in the Donation Instruction box explain that it is for Sheila Hamaker.
CSMTA Foundation Chair,
Evelyn Rose Billberg